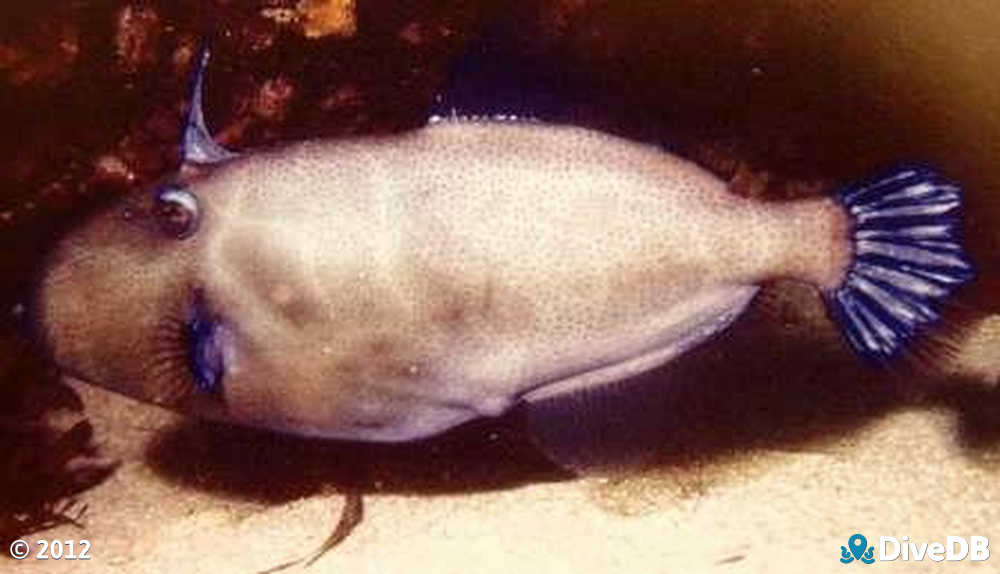 Blue Tailed Leatherjacket

Scientific Name: Eubalichthys cyanoura, Last Edited: 5/11/2021, 2:57:19 PM
Type: Fish, Colour: Blue, Pattern: Spots, Size: Medium, 
Description
Distribution. Endemic to southern Australia, from York Peninsula, South Australia, to Dongara, Western Australia. Inhabits coastal reefs to a depth of 30 m, preferring exposed offshore areas. Juveniles have been found under jetties in coastal embayments. Size. Reaches a total length of 42 cm (36 cm SL). Colour. Adults: head and body pale green, pale brown to blackish brown, covered with close-packed darker spots; dark brown lines and spots on snout and along anal fin base; mosaic pattern of dark brown to blackish blotches often present on side, or mosaic of pale lines only; 2 whitish bars usually present on throat (may be pale and difficult to detect in large males). All fin rays green, integuments of first dorsal and caudal fins bright blue in male, hyaline in female. Juveniles: side of head and body with a mosaic of large dark blotches; spotting develops at about 100 mm SL. Bray, D.J. 2017 Watch out for the dorsal spine which folds back when not required.
References